Introduction
Hi Workout Wednesday friends!  I'm back, just in time for the Tableau 2022.3 release, which means we'll be exploring Dynamic Zone Visibility.  This new feature allows you to use calculations and logic to dynamically show and hide dashboard elements (pretty powerful).  So in this challenge, you'll get some hands on exposure to this new feature (along with some other things thrown in for good measure, it is me after all!).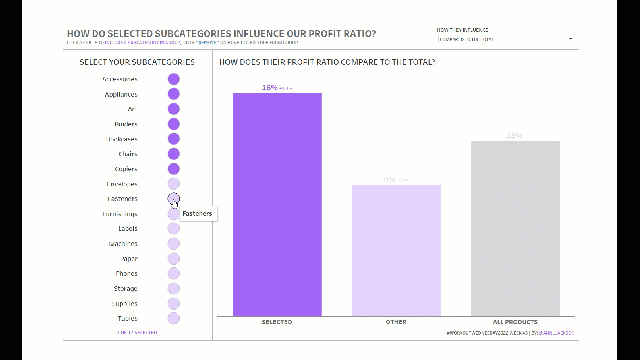 Requirements
Dashboard Size: 1300px by 800px
# of Sheets – up to you
Create chart that lets you dynamically add and remove subcategories from a group
Construct logic (using dynamic zone visibility) to toggle between 3 charts
Match all tooltips and formatting

Check out the line chart tooltip
Don't forget the footer on the left chart

Colors are Lightning Light 💜💜💜
Dataset
This week uses the current version Saved Superstore file.  (You can use an older one from data.world if preferred!)
Attribute
When you publish your solution on Tableau Public make sure to take the time and include a link to the original inspiration.  Also include the hashtag #WOW2022 in your description to make it searchable!

Share
After you finish your workout, share on Twitter using the hashtag #WOW2022 and tag @annujackson, @LukeStanke, @_Lorna_Brown, @HipsterVizNinja, @_hughej, and @YetterDataViz
Solution
Interactive