For retro month at WOW Towers, I decided to go way back into the archive and focus on a challenge that was set by one of the original WOW coaches, Emma Whyte, in May 2017.
The original challenge looked like the below image and provided a visual representation of the results of a blind wine tasting competition carried out between Oxford University & Cambridge University in 2017.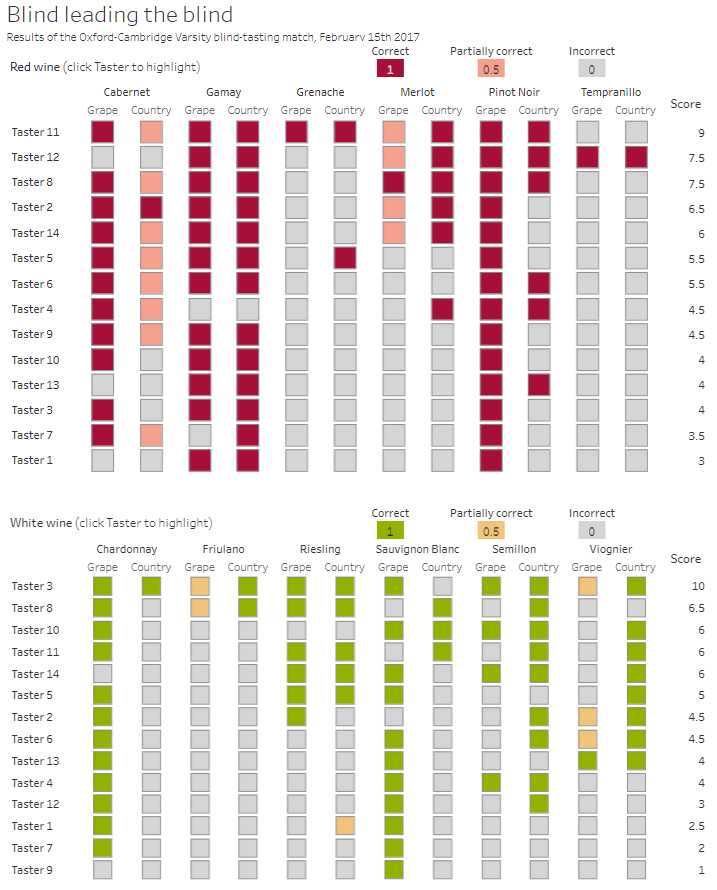 I chose to recreate this challenge as it's a different type of visual we don't often see in WOW, and is based on different data. Also, Emma's website, where she hosted the original requirements for her challenges, is no longer active, making it a little trickier for anyone to know about the existence of this challenge (it pre-dates the current WOW tracking data we have).
Unfortunately, as Emma's website is inactive, the source of the data isn't known, and I've been unable to track down any more recent results. Emma's solution can be accessed here.
For this challenge, we'll utilise the same data (see link below), but we're going to refresh the visualisation a bit to create the below:
Dashboard Size: 1600 x 800

For each wine, the taster has to identify the grape and country. They score 1 pt for each correct answer and 1/2 pt if they are partially correct. Incorrect answers score 0.

Correct answers for red wines are represented by the red squares (#e15759) and correct answers for white wines are represented by the green squares (#8fb202)
Partially correct answers are represented by peach squares (#f7d4b1)
Incorrect answers are represented by grey squares (#d5d5d5)

The score for each taster for each type of wine (red or white) is displayed along with the overall score.
The core tabular viz (including the scores) should be created within a single sheet.
Provide the ability to sort the table based on Overall Score, Red Score or White Score
Include images in the table headings related to the Score Type – the image should reference the urls below and do not need to be downloaded.

Grape : https://workout-wednesday.com/wp-content/uploads/2023/07/Grapes.png
Country : https://workout-wednesday.com/wp-content/uploads/2023/07/Globe.png

The bottle & glass image is accessible from the link below.
Dashboard background colour is #f6f6f4
Match formatting and tooltips

NOTE tooltips should not be visible when you hover on the scores.
When you publish your solution on Tableau Public make sure to take the time and include a link to the original inspiration.  Also include the hashtag #WOW2023 in your description to make it searchable!