This week I'm tackling a topic that nearly everyone has been asked – visualizing good/bad as performance indicators that are red or green.  At least here in the western world, the busy executive tends to think about things in terms of traffic lights.  So this week your task is to create something that satisfies their ask of seeing immediate good/bad and adding on some additional analytical components for context (essentially the "why" behind the good/bad).
This dashboard also tackles the idea of automating the visualization to update as time ticks on.  The goal is that you build something today and it will continue to work in the future (in fact you'll probably see based on when you're viewing this blog post the visual will change).
And a last side benefit of this challenge will be learning how to build something that can be automated/pre-built, even if you don't yet have the data.  In this specific example we'll be pretending it's 2018 to use the static Superstore data set.  So if you find yourself working with a static data set in the future and trying to anticipate and build out the visuals, you can use this method to construct the final view.
Requirements
Dashboard Size: 1100 x 700 (you choose # of sheets)
Create a running total sales chart (MTD) for the 3 different Segments

Show current year as a running total line chart, colored red/green depending on if it's above/below the same MTD value from the prior year
Show prior year as area chart – if it's part of the prior comparative time period it should be dark gray, yet to come should be light gray
Create a dynamic reference line for Today
Add on a dynamic title that states the days left in the month
Add on an indicator to the left of BANs that is red/green depending on if sales is up or down
Match labels, tooltips, and all additional formatting
Include a Category filter so you can test the functionality
Hint: pretend we're in the year 2018 by subtracting X # of years from Today
Dataset
This week uses the superstore dataset for Tableau 2019.1+.  You can get it here at data.world
Attribute
When you publish your solution on Tableau Public make sure to take the time and include a link to the original inspiration.  Also include the hashtag #WorkoutWednesday2019 in your description to make it searchable!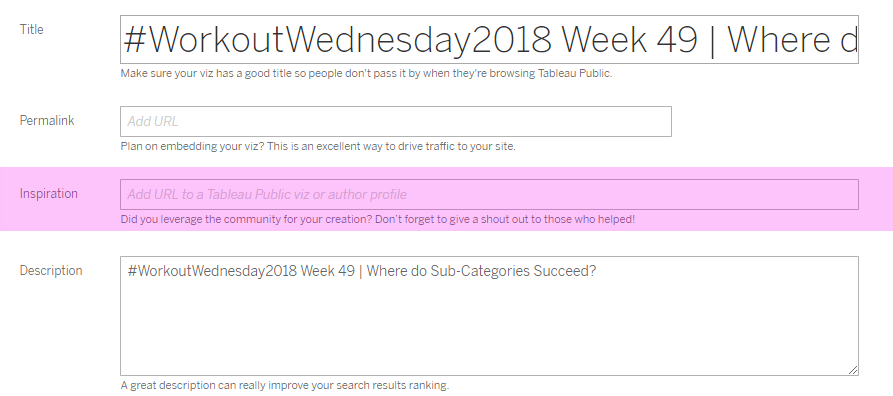 Share
After you finish your workout, share on Twitter using the hashtag #WorkoutWednesday2019 and tag @AnnUJackson, @LukeStanke, @lorna_eden, and @curtisharris_!
[embedyt]https://youtu.be/8-mw6EjcKxc[/embedyt]