This week's #WorkoutWednesday idea comes from creating a product portfolio. The customer wanted to see how much a product has grown and what it's market share was. We are going to recreate the BCG Growth-Share Matrix for our superstore sub categories and manufacturers.
"The BCG Growth-Share Matrix is a portfolio planning model developed by Bruce Henderson of the Boston Consulting Group in the early 1970s. It is based on the observation that a company's business can be classified into four categories based on combinations of market growth and market share relative to the largest competitor, hence the name "growth-share." Market growth serves as a proxy for industry attractiveness, and relative market share serves as a proxy for competitive advantage. The Growth-Share Matrix thus maps the business unit positions within these two important determinants of profitability."
The Brief
The client wants to be able to look at a Sub Categories Growth and Market Share over X number of years. They want to be able to compare between Number of Orders and Sum of Sales for each particular category. They also want to see the top 20 manufacturers for Number of Orders OR Sales, but that to be dynamic when selecting a Sub Category. Interworks did something very similar, but they could only compare to 2 selected years!

Requirements – NO TABLE CALCULATIONS
Dashboard Size = 1200 x 900
Create a dynamic filter that only brings back 2, 3 or 4 years.
Calculate Growth of a Subcategory using max year and the average of X years orders or sales
Calculate the total market share for each subcategory based on X years
Mid Market Share =7%
Mid Growth = Half Maximum Growth
Create information sheet with the icons

'Dogs' = 'Low Market Share and a Low Growth Rate'
 'Question Marks' = 'Low Market Share and a High Growth Rate'
 'Stars' = 'High Market Share and High Growth Rate'
 'Cash Cows' = 'High Market Share and Low Growth Rate'

Add Sub categories onto Scatter plot
Match Tooltips
Fonts and Colours are at users discretion
Dataset
This week uses the superstore dataset for Tableau 2019.1+ TDS.  You can get it here at data.world
Attribute
When you publish your solution on Tableau Public make sure to take the time and include a link to the original inspiration.  Also include the hashtag #WorkoutWednesday2019 in your description to make it searchable!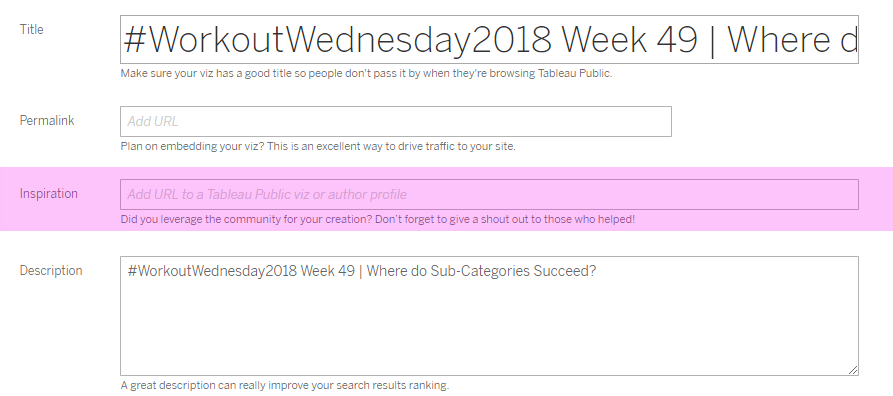 Share
After you finish your workout, share on Twitter using the hashtag #WorkoutWednesday2019 and tag @AnnUJackson, @LukeStanke, @lorna_eden, and @curtisharris_!