Another year has come and gone! 2021 marked the 5 full years of #WorkoutWednesday! 260 weekly Tableau technical challenges aimed at helping you skill up your Tableau development. It is impossible to quantify the impact this project has had on countless members of the community. 
Let's take a look back at the past year's success talk about how we're gearing up for the next 52 challenges in 2022. Over the past year, YOU, the Tableau community have logged over 1,400 challenge submissions! In those challenges we covered everything including:
 LODs

Table calculations

Advanced Formatting

Dashboard design

Model functions

Parameter Actions

…and so much more
Earlier this summer, we asked you to fill out a survey so that we, the coaches, could ensure that our challenges are aligned with what you, the community, want to learn more about. We were so happy with the results of the survey. We even challenged you to visualize the results! Here's a snapshot of those results.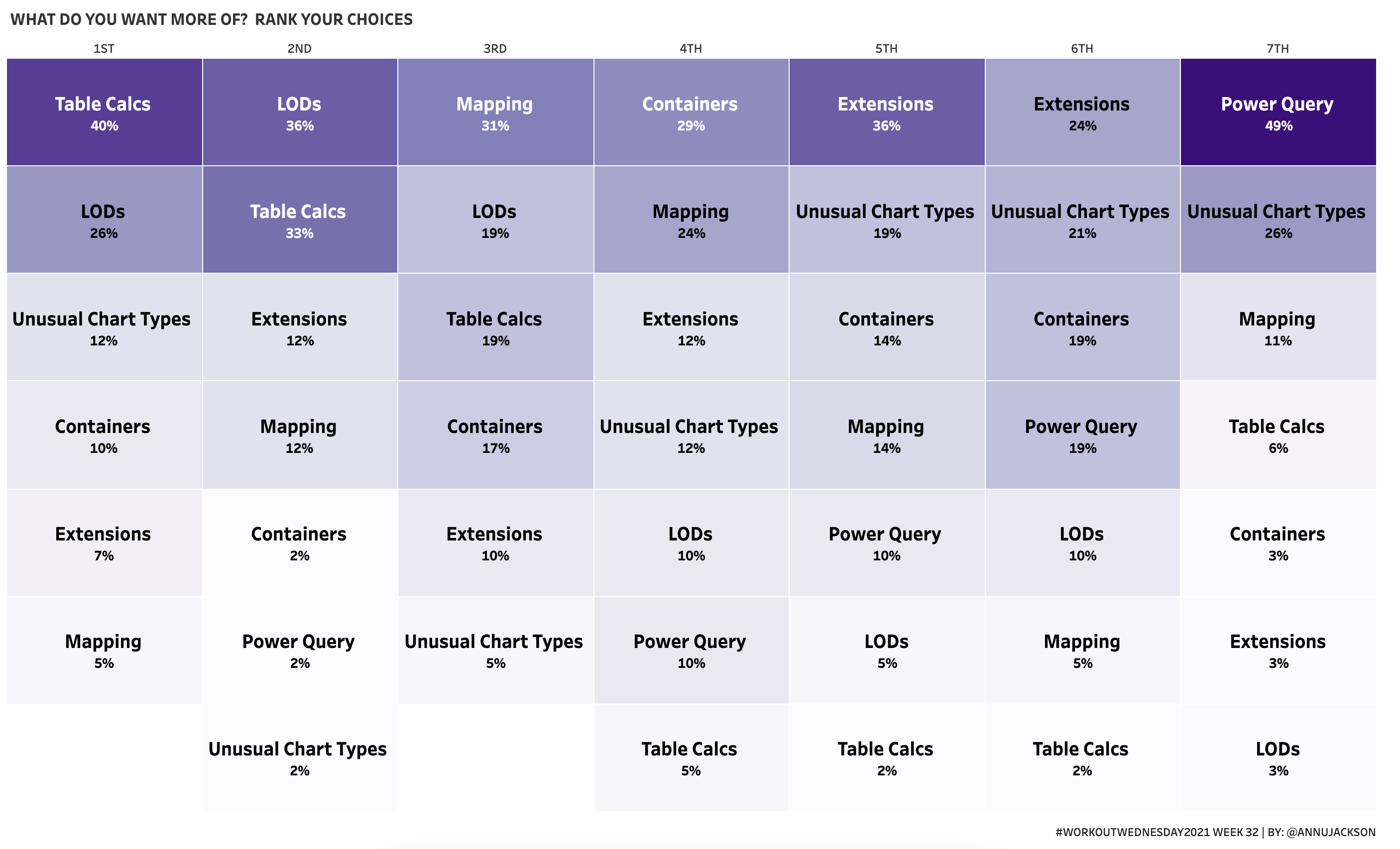 So as you can see, these are the types of challenges you want to see more of (though there probably won't be many Tableau-focused PowerQuery challenges 🙂 ).
Committing to these weekly challenges shows a level of dedication that is inspiring. Several members of our community have shown that level of commitment. The following members have submitted more than 45 challenges to our Challenge Tracker in 2021

The Color indicates the tool they used; Tableau, Power BI, and BOTH!

Yes, we need to give a HUGE shoutout to Rob and Zac for completing every challenge in both tools! That is NEXT LEVEL! 

We would also like to recognize Donna Coles and Rosario Gauna who consistently write up their solutions on their respective blogs. Thank you Donna & Rosario for your continued commitment and for providing such an invaluable community resource!
The new year always comes with new opportunities and a realignment of priorities. With that, we need to say farewell to two of our coaches and we'd like to take this opportunity to say thank you to two coaches who are stepping down in 2022. Candra McCrae joined us as a coach in January and she gave us 11 excellent challenges focusing on table calculations, date functions, prediction models, advanced interactivity, and even custom background maps! Candra was instrumental in getting the community survey created and sent out. One thing that Candra always pushed the rest of the coaches to consider was the newer members of the project and not making them feel overwhelmed. In the Spring, Candra started working at Tableau as a Solution Engineer. She also spends a lot of her time as part of both the Tableau Equity Task Force as well as a contributor to the Data Leadership Collaborative. So while she may not be making challenges next year, she'll definitely be busy and we can't wait to see her continuing contributions to both of those important initiatives. Thank you, Candra! 
2022 is going to be a BIG and BUSY year for the long-time coach, Ann Jackson. She is stepping out of the gym and into the classroom as head coach of The (new) Data School US! We are so proud of and excited for Ann to take on this new challenge. She has been a #WorkoutWednesday coach since 2018. She finished with a total of 52 challenges during her tenure. We are really going to miss her challenges, her ALL CAP text, her love of hue circle and nuriel stone color palettes, and of course…her love and devotion to table calculations! Oh yeah, and cat emojis! Thank you Ann for everything you've poured into #WorkoutWednesday over the years as both a participant and a coach! We can't wait to see you teach the next generation of Tableau analysts through The Data School.
As old coaches step aside, it opens up the opportunity for the next generation of #WorkoutWednesday coaches to step up into a coaching role. Earlier this fall, we asked the community to raise a hand if interested in stepping up. We had a handful of volunteers and it took us a while to decide on the final names but managed to do it!
It is with great pleasure and excitement to announce that we have TWO new coaches joining us full-time in 2022. Please give a big welcome to Erica Hughes and Kyle Yetter! 
Erica is just a new kid in the world of data, having joined the Data School in June 2020. That being said, her favorite part of working with Tableau is falling down the rabbit hole to uncover how to solve problems. Beyond that, she loves being able to help others and share her understanding. Her most recent obsession led to the creation of two 'Table Calculation Configuration Guide' workbooks which are featured on her Tableau Public profile.
Kyle is a Business Analytics Manager at Ancestry who aims to make decision-making easier for the executives he works with by having the relevant data ready for them when they need it in a way that allows for actionable insight. He also works to help others in the organization improve their Tableau skills, including hosting a live Workout Wednesday session each week to share how he goes about solving the challenge and answer questions about how certain outcomes are achieved. 
They will be joining the returning coaches; Luke, Lorna, and Sean in 2022 and we'll be getting starting NEXT WEEK! So enjoy the long New Year's weekend and we'll see you in 2022!