This week's challenge is plucked directly from #IronQuest.  If you're not aware of what #IronQuest is, it's a monthly challenge during the off season of Tableau Public's Iron Viz feeder contest.  It's run by Sarah Bartlett and each month a different theme is chosen.  Participants are allowed to submit for feedback (the idea is to prepare for Iron Viz and to get more comfortable building out new content).  The month of February just closed with a very appropriate theme voted on by the public, Business Dashboards.  You can check out the full list of dashboards (there's 30+) at Sarah's blog.  Since the theme falls heavily in line with Workout Wednesday (most of our challenges come directly from our day-to-day work), I decided to bring my own submission for #IronQuest over as a challenge.
The final dashboard you'll be rebuilding is a major component of a dashboard I recently built.  It was born out of the challenge of showing all 50 states plus DC in a single view.  The size of the states was problematic for showing a metric – as the size of the geography was dwarfing the overall performance of all the states.  And of course Hawaii and Alaska fell victim to not fitting neatly on a map, so our first goal was to create a view that more cleanly displayed all the states.  In addition to the first concept, we wanted to compare performance over a specific time period (it's one year for the sake of the workout) and quickly identify improvements and performance gaps.
The final visualization you'll be rebuilding is a tile map (I've chosen to go NPR style) that allows for YoY comparison of profit ratio.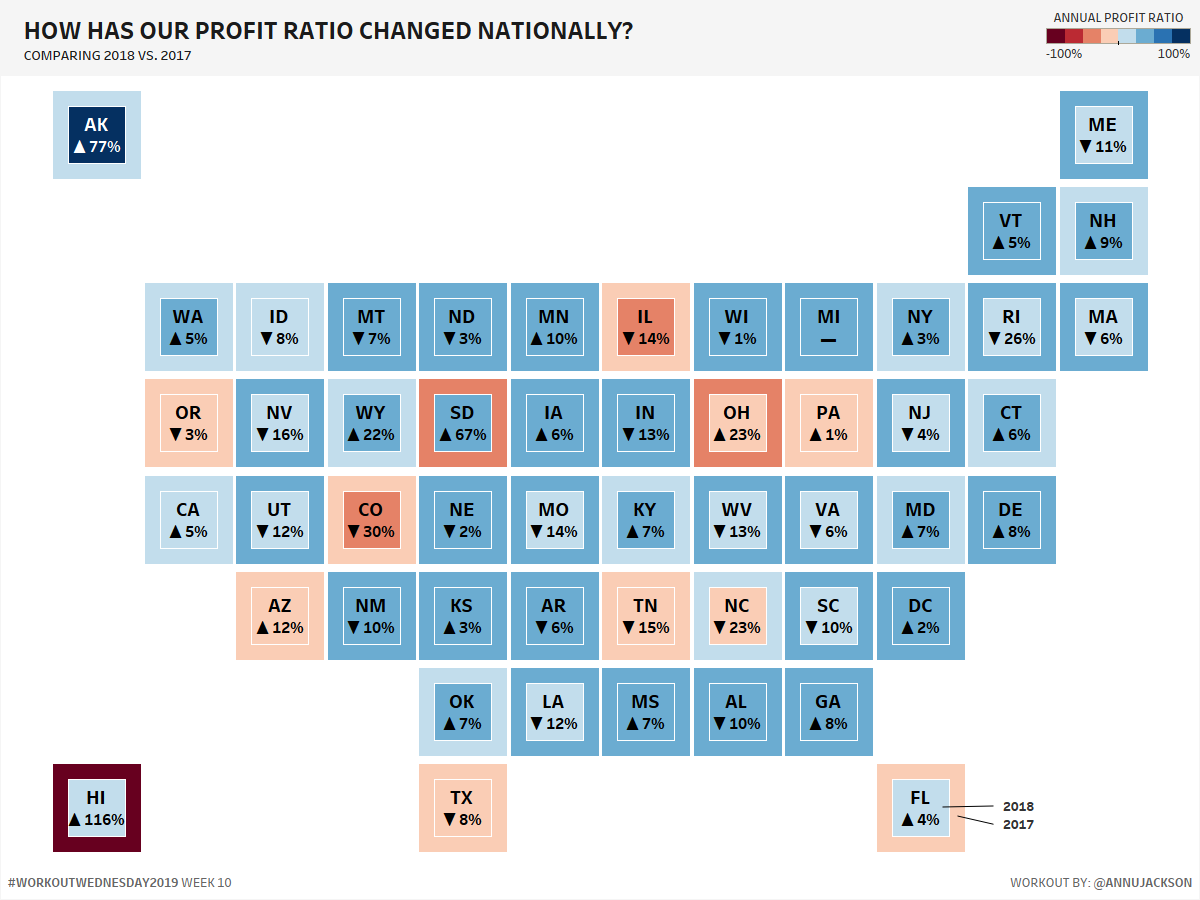 Requirements
Dashboard size: 1200 x 900; 1 sheet
Create a tile map showing 2017 vs 2018 profit ratio

2018 = smaller square; 2017 = larger square (Thanks Bryan!)
Can use this blog post as inspiration and base file for map from Brittany Fong

Build a calculated field that shows the percentage change in profit ratio YoY and place on label

Formatting must match (use AZ, IL, and MI as references)

Color profit ratio using the scale in the upper right
Match all additional labels, tooltips, and formatting that you spot (including the year labels on Florida!)
Lastly – you are not allowed to use Level of Detail (LOD) Expressions!
Dataset
This week you'll have to use a modified version of Superstore to allow for more variety and all 50 (+1) states from data.world
Attribute
When you publish your solution on Tableau Public make sure to take the time and include a link to the original inspiration.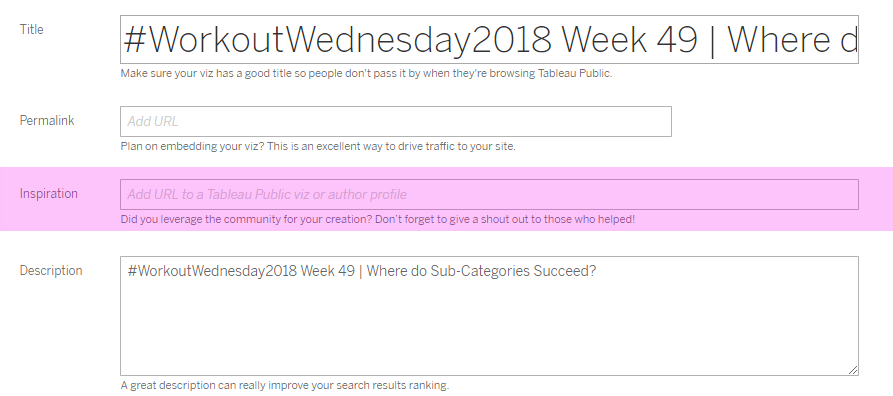 Share
After you finish your workout, share on Twitter using the hashtag #WorkoutWednesday2019 and tag @AnnUJackson, @LukeStanke, @lorna_eden, and @curtisharris_!
Track Your Progress
Also, don't forget to track your progress using this Workout Wednesday form.