Calendar years run from January 1st until December 31st, but an organization's fiscal year might start in a different month. In this week's challenge, a company's fiscal year runs from October 1st through September 31st. Let's see how this company performs.
Configure your workbook as follows: 
Dashboard size: 800 x 500
# of Sheets – up to you
Set the default fiscal year to start on October 1st

.

Build a dashboard that shows the Sales and OPP values.

Sales: Account Number starts with 5
OPP: Account Number starts with 5 and 696

Create a horizontal bar chart – for Sales and OPP value – that shows the Current FYTD Period and the line that represents the Prior FYTD Period/Budget based on a Parameter Selection.
Show the exact differences and % differences between the Current and Prior Period/Budget as KPIs.
The color of the Current Period is based on the % difference. If the Revenue is less than Budget then it is a Red.

Difference > 5% |  # 008682 – Green
-5% = < Difference <= 5 % | # FFE00A – Yellow
Difference < – 5% | # D81159 – Red

Allow the user to set the Budget of Sales and OPP in million. Show these parameter boxes only when the FYTD vs. Budget FYTD is selected.
Create a line chart – for Sales and OPP value – that shows the Current and Prior Monthly Period.

FY 2019 #6C6C6C – Dark Grey
FY 2020 #5557EB – Purple
When you publish your solution on Tableau Public make sure to take the time and include a link to the original inspiration.  Also include the hashtag #WOW2020 in your description to make it searchable!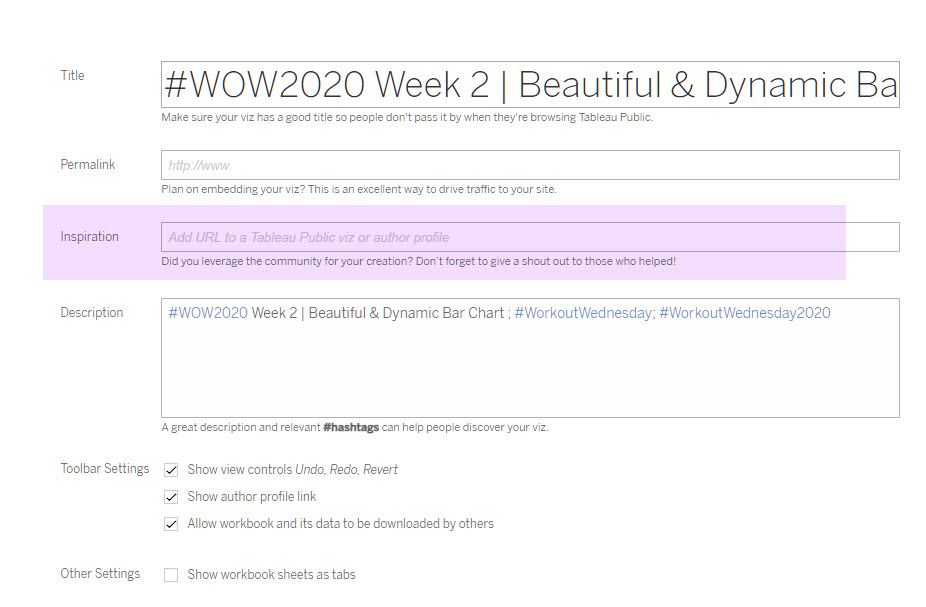 var divElement = document.getElementById('viz1592935189032'); var vizElement = divElement.getElementsByTagName('object')[0]; vizElement.style.width='800px';vizElement.style.height='527px'; var scriptElement = document.createElement('script'); scriptElement.src = 'https://public.tableau.com/javascripts/api/viz_v1.js'; vizElement.parentNode.insertBefore(scriptElement, vizElement);