Thanks to everyone who has ben participating in #WorkoutWednesday – Power BI edition. This week we are going to be diving into a couple of different ways to custom sort your data. End users will often ask for specific sorting order, so figuring out how to do this in Power BI can be extremely helpful. See the example report below: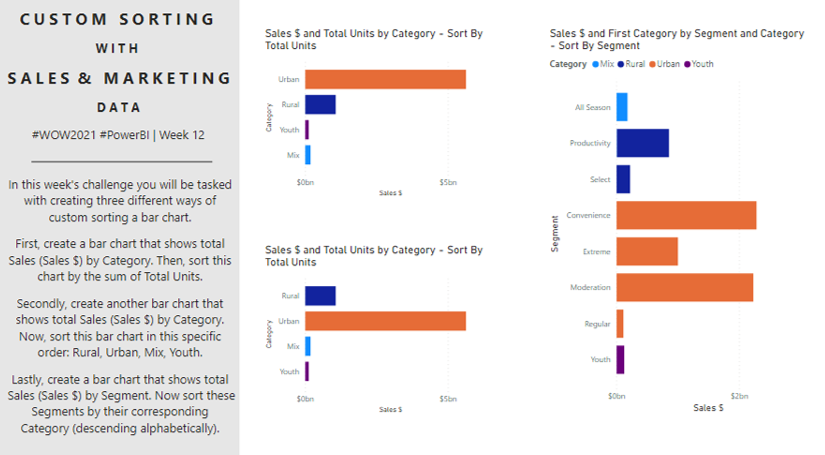 *the bottom left bar chart title says Sort by Total Units – this should be Forced Sort (as shown in the requirements below to Rural Urban, Mix, Youth).
Connect to the Sales & Marketing sample data set available on PowerBI.com
Create two bar charts showing Sales $ by Category
Sort the first bar chart by the Total Units field in descending order
Sort the second bar chart by a custom field that force ranks the Categories into the following order – Rural, Urban, Mix, Youth

Create a bar chart showing Sales $ by Segment

Sort this bar chart by Category descending alphabetically
This week we use the Sales & Marketing sample data set provided to us by Power BI. ou can connect to this data by navigating to your workspace on PowerBI.com. Then go to the bottom where is says Get Data with an ascending arrow. In this screen scroll down and click on the Samples link. Scroll down until you see the Sales and Marketing Sample option in green. Select Connect. Now open Power BI desktop and in the Home ribbon select the Power BI datasets option. In the list that pops up you should see the sample data set that was chosen. Click on this data set. 
If this connection method is not available to you, you can click on this link to access the Sales & Marketing sample data set.