This week's workout comes from a recent conversation I had.  The goal was to figure out the best periods of sales (whether that was best days, best weeks, or best months) and to understand more context around those dates.  Was the increase in sales driven by holidays or other external events, or perhaps it was related to promotions or other internal events?
So your challenge this week is to build out a calendar view that allows for the highlighting of the top 3 days/weeks/months in a given year.  There's always something nice and familiar about calendars – we are naturally accustomed to viewing them, and it can sometimes be easier to spot trends than if we were to just use a line chart.
Requirements
Dashboard size: 1600 x 1300 (# of sheets is up to you!)
Create a calendar visualization that does the following

Shows all dates within data
For dates without data, they should show up as gray circles
For dates with data, they should have the date in the middle and a darker gray circle outline

Create functionality to highlight

Top 3 days
Top 3 weeks
Top 3 months
When highlighted, the dates will be yellow; dates with no data will still be gray

Add functionality to allow the user to switch between 2017, 2018, or 2019
Match any other formatting and tooltips

The title is dynamic
Tooltips are easy this week!
Dataset
This week uses the Superstore Data Set from 2019.3 (it goes through the end of 2019)
Attribute
When you publish your solution on Tableau Public make sure to take the time and include a link to the original inspiration.  Also include the hashtag #WorkoutWednesday2019 in your description to make it searchable!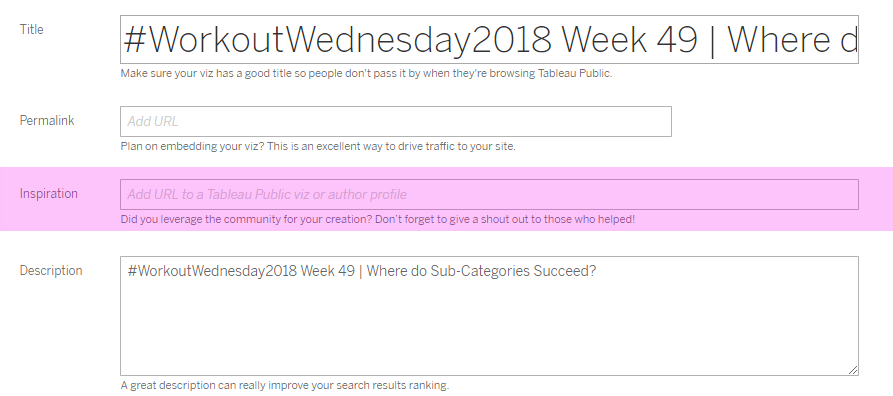 Share
After you finish your workout, share on Twitter using the hashtag #WorkoutWednesday2019 and tag @AnnUJackson, @LukeStanke, @lorna_eden, and @curtisharris_!
Solution
Keep an eye out for the solution video – that will be ready over the weekend!