There has been an overwhelming response from the last couple of weeks series so I thought, let's continue. How many times have you gone into a meeting with a finished dashboard and someone's asked "Can you just…". Well here is my "Can you just…"!!
I want you to be able to switch what measures we are using throughout the viz. I want to choose from Sales, Profit, Profit Ratio and Quantity. Not only that, I want a special user interface for selecting the measures which means no drop down menus (I don't want much!)
If you are coming to this challenge fresh you have three options, you can either:
Download Kyle's workbook from last week
or simply take the measure switcher and create a simple scatter plot (see example 2).
Maintain Dashboard Size
Add in Measure Switcher using the dataset below. HINT: 1 = Sales, 2 = Profit etc…
Use the measure from the switcher for every chart in the dashboard
Add sheet to dashboard in a container which can be Shown or Hidden.
Use Parameter Actions to switch the X & Y.
Example 2:
Dashboard Size: 600 x 850
Create a simple scatter plot with the X & Y selections
All other requirements same as above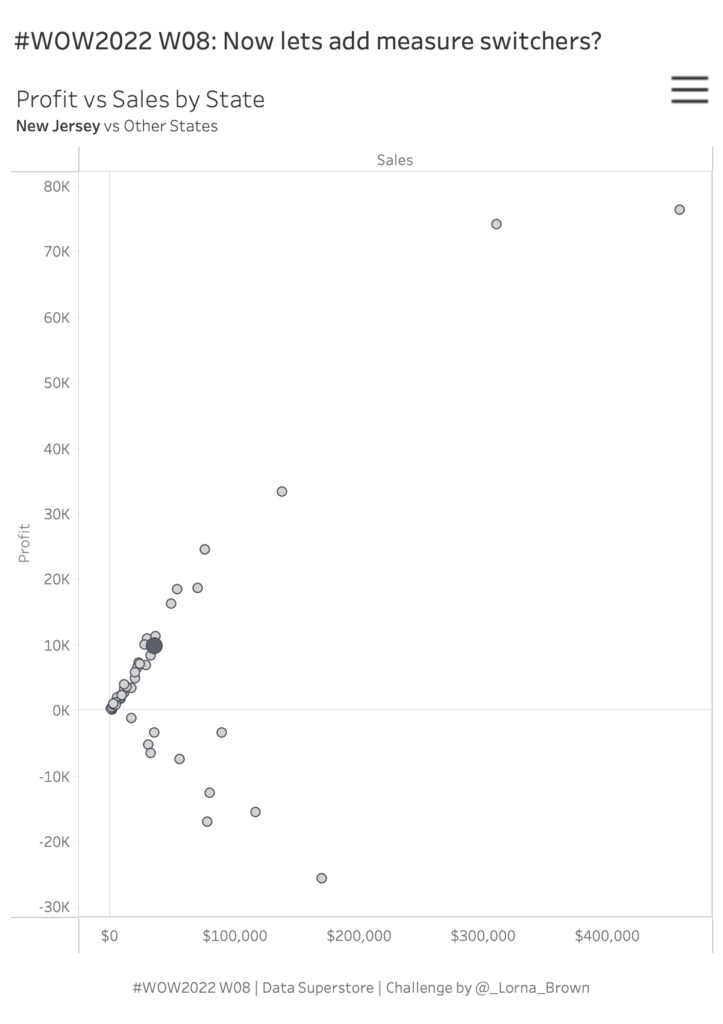 This week uses Superstore from 2021.4. You can find it here on Data.World
You also need to copy and paste the below into Tableau as a secondary data source:
Number,
1,
2,
3,
4
When you publish your solution on Tableau Public make sure to take the time and include a link to the original inspiration.  Also include the hashtag #WOW2022 in your description to make it searchable!