Your challenge this week is to create a Project Budget Tracker leveraging the IT Spend Analysis example dataset available to everyone in Power BI Service.  We decided to keep the project management theme going this week with this take on tracking how your project is following the budget.  If you did not do last week's challenge, I highly recommend you checkout Rob Saunders' Risk Matrix challenge, here.  
For this challenge, you'll have to connect to the IT Spend Analysis example data set in Power BI Service. The instructions for connecting are detailed in the Dataset section below. This file and associated data is property of obviEnce LLC and has been shared solely for the purpose of demonstrating Power BI functionality with industry sample data.  
If you complete this week's challenge, please include the italicized attribution above someplace in your report. 
Now, let's take a look at the visualization. This report shows the project status in terms of plan v budget. The point of this report is to identify whether or not the project is within budget as well as identify the sources of the spend.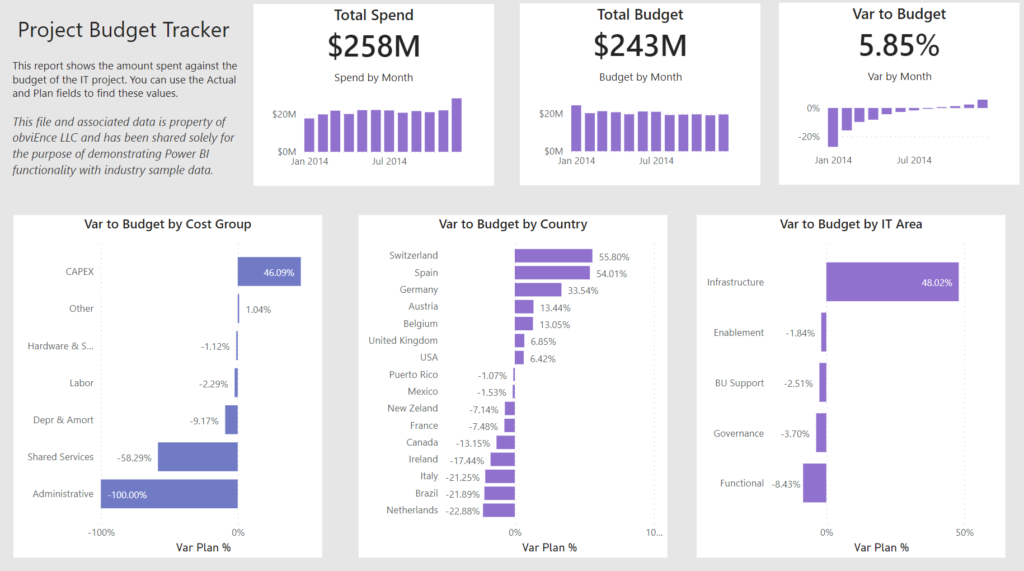 Connect to the IT Spend Analysis data set available in Power BI Service


In Order to connect to this data set go to PowerBi.com.
Go to the bottom left of the page and click on Get Data
 Right below where it says "More ways to create your own content" – click on Samples
 Choose the IT Spend Analysis data set
Open Power BI Desktop – click on Power BI data sets in the ribbon and then select the IT Spend Analysis data set that you just imported to your workspace

Since the Actual and Plan data is aggregated in a cumulative manner, you will need to back into the amounts that were planned or spent per month. This requires you to create two calculations on top of the provided data set


Actual Mo – this is the amount of Actual spend per month
Plan Mo – this is the amount of spend that is planned for each month

Using the previous two fields, create an actual v plan calculation that shows the % difference between budget and plan for each month

Create three KPI section for Spend, Budget, and Variance




Include trend bar charts by month for each metrc

 Ensure that that each bar chart filters the other charts instead of highlighting them
 GOOD LUCK
This week you can find the data on PowerBI.com. This data set is a sample data set available for users in Power BI Service. The instructions to the connect to the data set are in the Requirements section.